I had fun asking colleagues and friends what they would do if they won the $1.6 billion lottery. While some said that they would show up to work the next day just to gloat, others said that they would take some time off to adjust to their new status of being wealthy and then return to work. Each person included some statement about their job.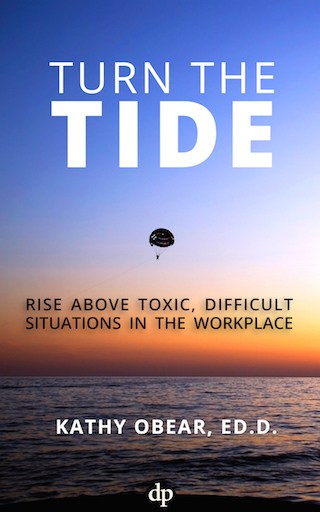 If you did not have the winning number, I have a prize for you and it's better than a consolation prize. If you are employed, this prize can Turn the tide: and help you Rise above toxic, difficult situations in the work place.
This is the apt title of Kathy Obear's new book, launching January 19. I think Obear's book can help you have a happier life because you will have a guide to lead you through the minefields of "losing it" or feeling shut down and disrespected, whether in your professional or personal life. If you really want to change the way you respond to others when you are in an untenable situation, you will want to learn about the seven-step process in the "triggering event cycle."
Learning about The Triggering Event Cycle will help readers understand that the impact of their negative over-reactions do not get erased after one blows off steam and moves on. Negative over-reactions can be the trigger or stimulus for more dysfunction in the workplace or in personal relationships in the future because we get into a cycle that will demand special effort to change course. The author's suggestions about how to find the off-ramps are particularly helpful.
There is much to like and praise in this book. Vignettes of examples of the kinds of issues that arise in work situations makes the advice easily understood and remembered. The problems experienced by Kerry (fictional or pseudonym) at the beginning of the book are so extreme, just reading about her problems could make most of us realize that our own situation is not so bad after all.
The encouragement the author gives from the beginning is comforting and puts the reader in a relaxed and receptive mood to learn. I also like that there is a guide to how to use this book. If one needs advice right away, there is a chapter for what might be "first-aid," and then there is the sound advice of reading the entire book and doing the exercises. With this much in the opening, I was eager to get started! And, I kid you not when I tell you that I read the book straight through, beginning to end, because it captured my interest and became my priority.
In reading the book, the author's voice in sharing her personal experiences makes the reader feel as if there is one-on-one coaching and the author really understands what I, the reader, am experiencing because she has experienced something similar or has worked with others who experienced similar reactions.
Because so many have respect for Obear and the work she does, readers will be encouraged when they read that she, too, has had to learn how to deal with triggering events and how to take charge of her reactions.
The vignettes of workplace situations are excellent in defining new concepts. Bringing the vignette of Kerry, who was described at the beginning of the book, back in the concluding section of the book, is an excellent way to demonstrate how the tools for effectively responding could be used. The practical usage of the tools is what readers will appreciate.
Your jackpot and lottery is below:
REGISTER TO DOWNLOAD MY BOOK FOR FREE ON JANUARY 19th!!
My new book, TURN THE TIDE: Rise Above Toxic, Difficult Situations in the Workplace, will be featured at the BOOK LAUNCH PARTY/webcast along with several others publishing with Difference Press on January 19th at 12:30pm ET!

Sign up, it's free and even if you can't listen in live, you'll get an email with links to all the recordings AND the books to download! AND access to free offers from authors including my new 10-minute video, "What is a Triggering Event?" and the Companion Discussion Guide to lead Lunch & Learns and trainings in your organization!!! 
************************************

Register at: www.theauthorincubator.com/livefromtheauthorcastle

************************************
Oh and they are giving away lots of cool prizes to celebrate the book launches!

Hope to see you there!!
Kathy Obear
Copyright © 2016 Kathy Obear Life Coach, All rights reserved.
You signed up for updates from Kathy Obear on her book launch – "When workplace situations explode: Tools to respond when your buttons get pushed!"
Our mailing address is:
Kathy Obear Life Coach
382 Central Park West #18D
New York, NY 10025
Add us to your address book